TTO – 6 people died, 19 houses were burned in the fire of gasoline tank trucks on Highway 13, the section passing hamlet 3B, Minh Hung commune, Chon Thanh district, Binh Phuoc (near Minh Hung industrial zone – South Korea) November 22 this morning.
At 9 am on the same day, the representative of Binh Phuoc Provincial Police said there was a quick report on the horrific accident that happened on Highway 13, the section passing Minh Hung commune, Chon Thanh district caused 6 deaths on the spot.
According to the Binh Phuoc Police Department, gas tanker driver Thach Van Phong, unknown age, Tra Vinh village, temporarily residing in Chon Thanh district, was transferred to Cho Ray Hospital, HCM City for emergency.
The truck driver, Bui Thanh Vinh, 43, was slightly injured.
The fire caused serious consequences due to 10 oil blocks, 4 gasoline blocks from tank trucks pouring into people's houses, burning 19 houses, of which two were completely burned. 6 people died of fire, including 4 people in a family.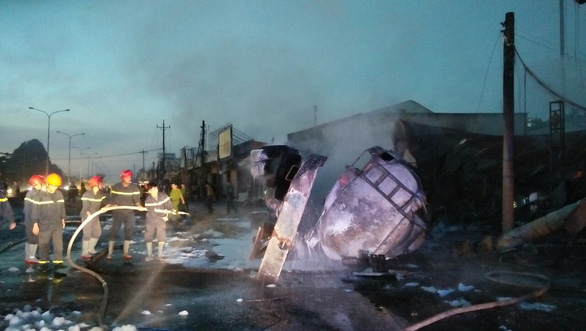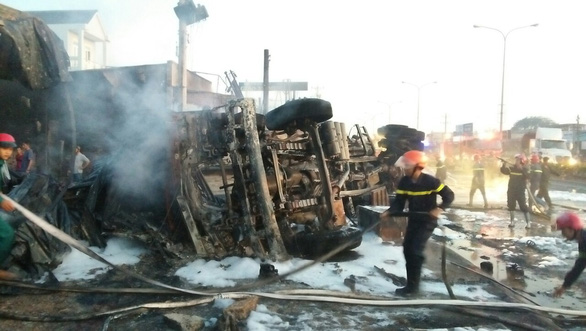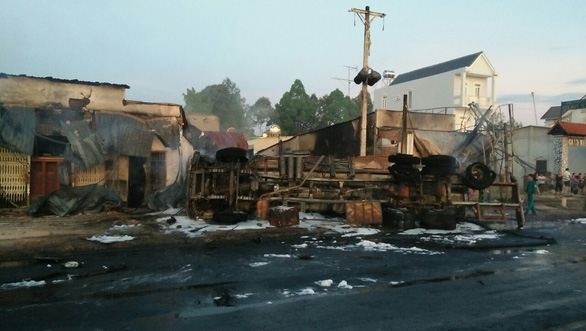 Initial information from some witnesses said that around 4:30 this morning, a gas tanker truck running towards Chon Thanh to Binh Long town suddenly crashed into the tail of a three-wheeled van with the same direction.
After that, the tank truck lost control, rushed through the dividing line and dashed up to the edge, collapsing the medium voltage pole, breaking the power line and flipping over.
The accident of causing gasoline to flow into the highway caused a terrible fire.
After receiving the news, Binh Phuoc provincial functional forces dispatched many vehicles to put out the fire. The director of Binh Phuoc Provincial Police was also at the scene handling the accident.
At 5:25, fire was extinguished but the fire caused serious consequences.
In the morning of November 22, the secretary of the provincial Party Committee and the chairman of Binh Phuoc People's Committee directed the functional forces to quickly clarify the fire.
According to the people, at the time of the fire, most people were still asleep, so they were passive in evacuation.